Photo Gallery of FM Only Radios
Click on any photo for an enlarged picture

Vacuum Tube Portable Radios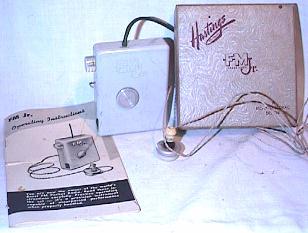 Concert Networks
"Hastings FM, Jr."

Vacuum Tube Novelty Radios


Guild Radio Corp of America
"Country Bell"
Tube Clock Radios
Console Radios
Pre-WWII Radios and Tuners

Brewster B-10


GE HM-80

GE JFM-90
(tuner)


Lafayette 716(?)


Meissner 9-1047
(tuner)

Motorola FM82
(tuner)

Scott converter


Silvertone 6143
(tuner)

Stromberg Carlson 505H
Post-WWII Tuners and receiving converters

Audar FMC-12 "Telvar"

Brooks tuner

Brownings Lab RV10

DeWald B612
(FM to AM converter)

DeWald B612 Catalin
(FM to AM converter)

Edwards Fidelotuner (1)

Edwards Fidelotuner (2)

Fada 795

GE XFM 1

Howard 482

Meck (model unknown)

Meissner 8C

Heathkit FM Tuner

Minerva SA286

Philips 7768-12
internal converter

Pilot T601

Pilot T607

Regency TeleVerter
(FM to TV converter)

Scott
internal converter

Vision Research Teletuner
(FM to TV converter)
Pre war to post war (retrofit) converters [retrofit page]
Special purposes
[HOME] [FM list] [Photos] [Converters] [Stereo] [Wanted] [Links] [Credits] [Clones] [Siblings] [Low Tech] [FM vs AM]
---
Last updated .21 February 2011
Original site located at http://www.somerset.net/arm/fm_only.html by Andrew R. Mitz ; copied with permission.
(Mirror maintained by Mark Sherman)
m@mwsherman.com
All text, photographs, and other graphics are copyright (c) 1998-2011 LTJ Designs.